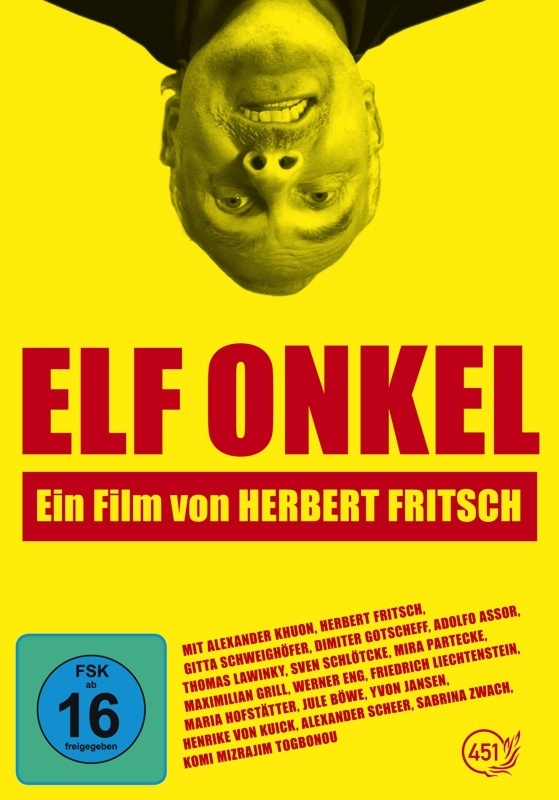 2010 ⋅ 101 mins
starring Alexander Khuon ⋅ Herbert Fritsch ⋅ Gitta Schweighöfer ⋅ Dimiter Gotscheff ⋅ Adolfo Assor
Thomas Lawinky ⋅ Sven Schlötcke ⋅ Werner Eng ⋅ Mira Partecke ⋅ Maximilian Grill
Friedrich Liechtenstein ⋅ Maria Hofstätter ⋅ Jule Böwe ⋅ Yvon Jansen ⋅ Henrike von Kuick
Alexander Scheer ⋅ Sabrina Zwach ⋅ Komi Mizrajim Togbonou
Production. hamlet_X in Koproduktion mit dem ZDF Theaterkanal
Producers. Herbert Fritsch ⋅ Sabrina Zwach ⋅ Georg Tschurtschenthaler
Screenplay. Sabrina Zwach ⋅ Herbert Fritsch ⋅ based on Saxo Grammaticus
Cinematography. Jan Zabeil ⋅ Ines Thomsen
Editors. Tobias Frühmorgen ⋅ Ruth Schönegge ⋅ Sonja Baeger
Visual Effects. Falk Gärtner ⋅ Martin Sulzer ⋅ Florian Köhne ⋅ Tobias Frühmorgen
Production manager. Georg Tschurtschenthaler
Music. Ingo Günther
Sounddesign. Jochen Jessuzek ⋅ Ingo Günther
ADR. Sebastian Reuter
The DVD of Elf Onkel/Eleven Uncles is available at the Filmgalerie 451 since 11-11-2011..
Subtitles: englisch
Extras: Interview with Herbert Fritsch (16mins)
2 previously unpublished short films by Herbert Fritsch: "Dr. Jekyll & Mrs. Heidi" (14 mins) and "Kinderkarussell" (17 mins)
hamlet_X (3 of 58): "Die Tapete" with Hendrik Arnst (3 min), "Der Frauenarzt" with Christoph Schlingensief (8 min) and "Tatort" with Jürgen Hentsch, Gregor Törsz, Boris Aljinociv & Dominik Raacke (3 mins)
→ Facebook
Links.
Filmwebseite – YouTube – IMDB – crew united – OMDB – Filmgalerie 451
Press.
Welt – FAZ – Tagesspiegel – nachtkritik – TV Spielfilm – MotorFM
Images.

Trailer.
Scene with Alexander Khuon and Jule Böwe.
additionals.
Credits.
Maximilian Grill is still scratching: